When I have been to Austria lately I spent hours in the children´s departement of my favourite book store. And there I found this sweet new title "The Girl with the Parrot on her Head" by British writer and illustrator Daisy Hirst. It is about a little girl called Isabel who has to say goodbye to her best friend Simon because he is moving away. A truly frustrating experience for her, making her angry and lonely at the same time. She tries to cope by organizing her stuff in boxes and embracing loneliness – but nothing helps. Until she steps outside her little world and finds a new friend.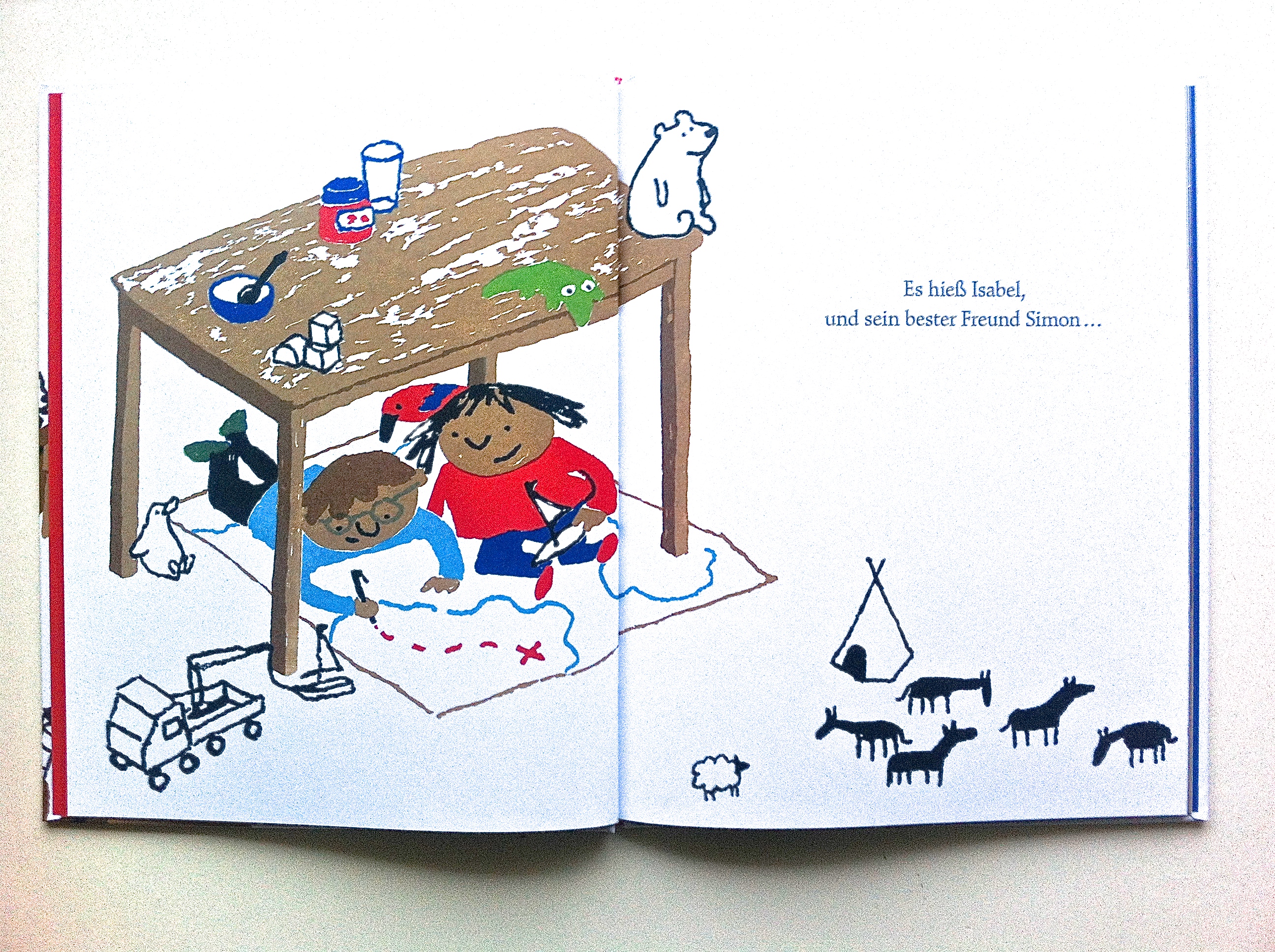 The story that seems to be so simple is actually full of metaphors. The parrot represents her boundless imagination, her loneliness is embodied by an imaginary wolf, which she banishes with the support of her new friend. Daisy Hirst captures all these deep underlying themes in simple language and whimsical illustrations.
If you want to know more about how she developed the story and artwork, please check out this great blog post over at Picture Book Party.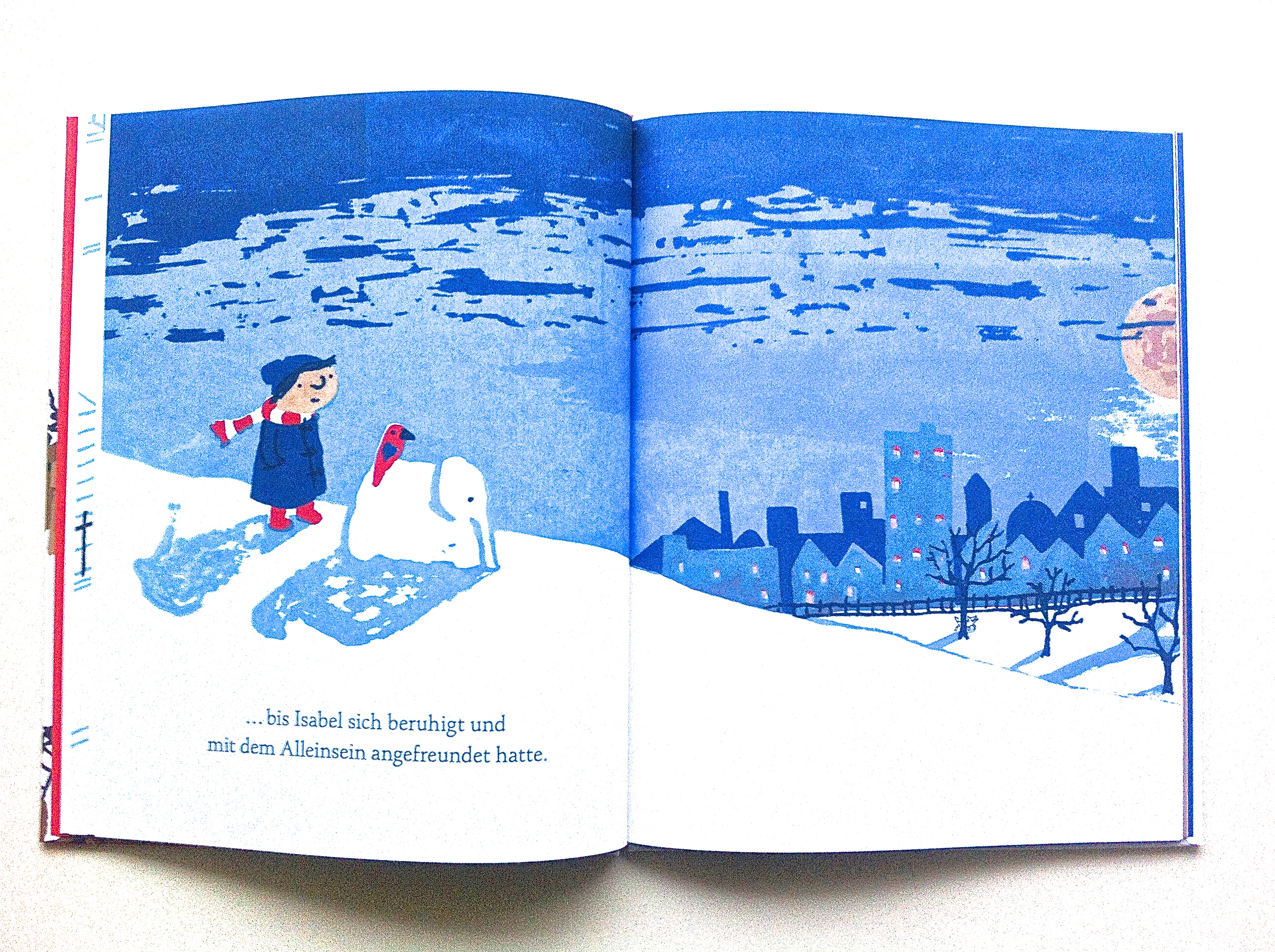 Bei meinem letzten Besuch in Österreich hab ich Stunden in der Kinderbuchabteilung meiner Lieblingsbuchhandlung verbracht. Und dort bin ich auf das neue Buch "Das Mädchen mit dem Papagei auf dem Kopf" gestoßen, von der Britischen Autorin und Illustratorin Daisy Hirst. Es handelt von der kleinen Isabel die sich von ihrem besten Freund Simon verabschieden muss, weil der umzieht. Die Erfahrung ist frustrierend für das kleine Mädchen, macht es wütend und einsam gleichzeitig. Sie versucht mit der Situation zurecht zu kommen indem sie ihre Sachen organisiert, alles in Boxen verpackt und die Einsamkeit umarmt – aber das hilft alles nicht. Bis sie ihre kleine Welt verlässt und einen neuen Freund findet.
Die Geschichte die so einfach klingt ist voll von Metaphern. Der Papagei repräsentiert die grenzenlose Phantasie, der imaginäre Wolf steht für die Einsamkeit, die sie letztendlich zusammen mit ihrem neuen Freund verbannt. Daisy Hirst fängt diese ernsten Themen in einer einfachen Sprache und witzig-eigensinnigen Illustrationen ein.
Wenn Du mehr darüber wissen willst, wie das Buch entstanden ist und wie sich die Geschichte und die Illustrationen entwickelt haben, dann lies den Beitrag auf Picture Book Party.
Tijdens mijn laatse bezoek aan Oostenrijk heb ik uren in der kinderboekenafdeling van mijn favoriete boekshop doorgebracht. En ben daar een nieuw boek tegengekomen: "The girl with the parrot on her head" van de Britse schrijver en illustrator Daisy Hirst. Het boek draait om de kleine Isabel die haar vriend Simon gedag moet zeggen omdat hij verhuist. Deze ervaring is frustrerend voor haar, maakt haar woedend en eenzam tegelijk. Ze probeert wel met de siutatie terecht te komen, door haar spullen op te ruimen, alles in kartonnen boxen te stoppen en de eenzamheid te omarmen – maar dat helpt allemaal niet. Tot dat ze haar kleine wereld verlaat en een nieuwe vriend tegen komt.
Het verhaal dat zo simpel klinkt zit vol met metaforen. De papegaai is de oneindige fantasie, de wolf is de eenzaamheid die Isabel uiteindelijk samen met haar vriend in de vlucht slaat. Daisy Hirst vertaald als deze serieuzen themas in een simple taal een grappig-eigenwijze illustraties.
Als je meer wil weten over hoe het boek tot stand is gekomen en hoe de geschiedenis en de Illustraties zich hebben ontwikkeld dan moet je zeker de blog-post lezen op Picture Book Party.