↓ Scroll down for Dutch/German version!
Hello English! Little I-Am-Me (original title ""Das kleine Ich bin Ich") is an Austrian children´s book classic by Mira Lobe (text) and Susi Weigel (idea and illustration). Since 2014 it is translated into English language. Originally published in 1972 it gave distinctive memories to many generations of children in Austria and Germany but also in other countries. That is thanks to translations into manifold other languages, under which Chinese and Japanese.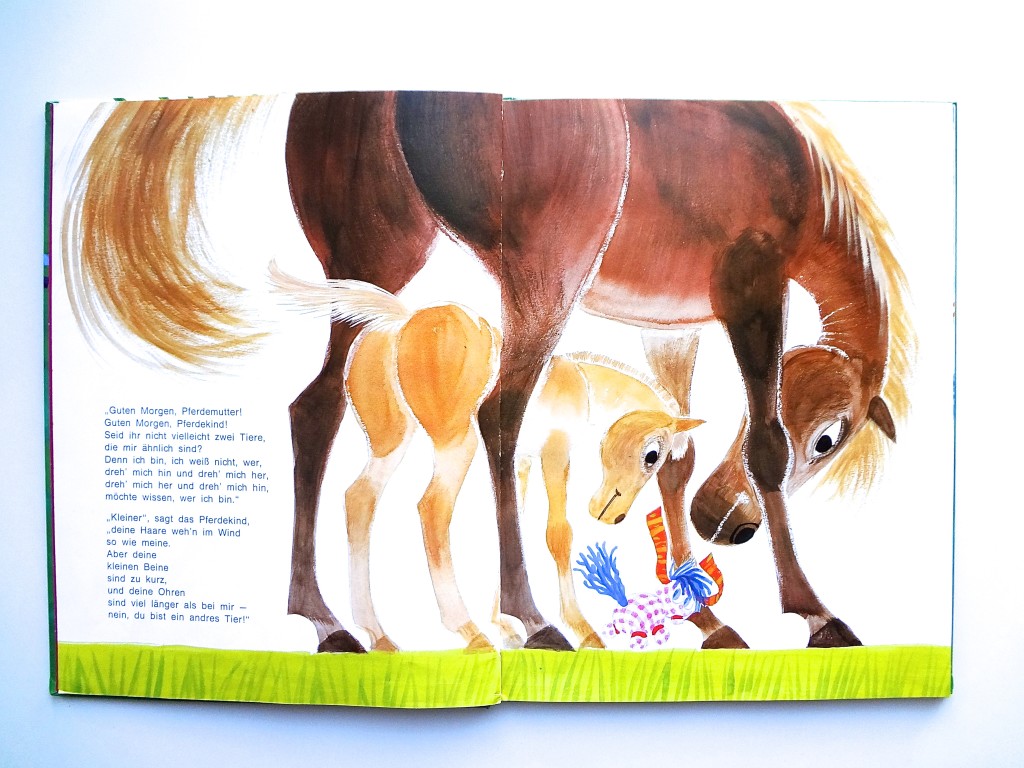 It tells the timeless story of a small, multicolored beastie, with long drooping ears, pink checkered body and long colored tail. Happy and satisfied it suddenly meets a frog who wants to know what kind of animal it is. The little I-am-me does not know an answer to that question and starts a search for its own identity. It starts running desperately from one animal to another, comparing itsself and trying to find conformities. But even if some characteristics match, it is REALLY no horse, fish, hippo, parrot or dog. In a moment of big sadness and fear (am I even existing?) it suddenly realizes that it is simply itsself with all ist different and differing features and qualities. "I am just me!"
The text by Mira Lobe is written in rhyme and has a beautiful rhythm to read to children. The illustrations by Susi Weigel are rich of details and alternate between multicolored water color and black and white pen-and-ink drawings.
The book looks into important subjects as self-worth and self-confidence and shows in a heart-warming manner that even a children´s book can deal with big philosophical questions like "Who am I?" and "How am I different?".
Mira Lobe, Susi Weigel, Little-I-am-me, Jungbrunnen 2014, ISBN 978-3-7026-5857-1
Hoi Nederlands! Ik ben Ik (in het origineel "Das kleine Ich-bin-Ich") is een Oostenrijkse kinderboekenklassieker van Mira Lobe (tekst) en Susi Weigel (idee en illustratie). Sinds 2013 is het ook in het Nederlands vertaald. Uitgegeven in 1972 heeft het de jeugd herinnneringen van hele generaties kinderen in Oostenrijk en Duitsland maar ook in heel veel andere landen gevormd. Want het boek werd in menigvuldige talen uitgegeven, waaronder in het Chinees en Japans.
Het verhaal draait om een klein, veelkleurig beestje, met lange flaporen, roze geruit lijfje en een lange staart. Gelukkig en tevreden komt het opeens een kikker tegen die wil weten, wat voor soort dier het is. Het kleine Ik-ben-Ik weet daarop geen antwoord en zo begint de zoektocht naar zijn eigen identiteit. Wanhopig loopt het naar verschillende dieren, vergelijkt zichzelf en probeert overeenkomsten te vinden. Maar ook zijn er sommige eigenschappen hetzelfde, het is toch ÉCHT geen paard, vis, nijlpaard, papegaai of hond. Op het moment van groot verdriet en angst (existeer ik überhaupt?) komt het besef dat het gewoon zichzelf is, met al zijn verschillende eigenschappen en kenmerken. "Ik ben gewoon Ik!"
De tekst van Mira Lobe is mooi op rijm vertaald en heeft een bijzondere ritme om goed voor te lezen. De illustraties van Susi Weigel zijn afwisselend kleurrijke aquarellen en zwart-wit pentekeningen.
Het boek draait om grote themas zoals eigenwaarde en zelfbewustzijn en laat op vertederende manier zien dat ook in een kinderboek filosofische vraagstukken aan de orde kunnen komen, vragen zoals "Wie ben ik?" en "Wat onderscheid mij?".
Mira Lobe, Susi Weigel, Ik ben Ik, De vier Windstreken 2013, ISBN 978-9-0511-6291-2


Hallo Deutsch! "Das kleine Ich bin Ich" ist ein Österreichischer Kinderbuchklassiker von Mira Lobe (Text) und Susi Weigel (Idee und Illustration). Seit kurzem liegen auch eine Niederländische (2013) und eine Englische (2014) Version vor. Zum ersten Mal im Jahr 1972 herausgegeben, hat es die Kindheitserinnerungen ganzer Generationen in Österreich und Deutschland, aber auch in anderen Ländern geprägt. Es wurde nämlich in zahlreiche Sprachen übersetzt, darunter Chinesisch und Japanisch.
Es erzählt die zeitlos aktuelle Geschichte von einem kleinen, bunten Tierchen, mit langen Schlappohren, rosa kariertem Körper und langem farbigen Schwanz. Glücklich und zufrieden trifft es einen Frosch der wissen will, was für ein Tier es ist. Das kleine Ich-bin-Ich weiß darauf keine Antwort und so beginnt die Suche nach seiner eigenen Identität. Es beginnt verzweifelt von einem Tier zum nächsten zu rennen, sich selbst zu vergleichen und Übereinstimmungen zu finden. Aber auch wenn einige Eigenschaften die gleichen sind, ist es doch nicht echt ein Pferd, Fisch, Nilpferd, Papagei oder Hund. Im Moment großer Traurigkeit und Angst (existier ich überhaupt?) kommt auf einmal die Erkenntnis. Dass es nämlich einfach es selbst ist, mit all seinen besonderen Eigenschaften und Kennzeichen. "Sicherlich gibt es mich. ICH BIN ICH!"
Der Text von Mira Lobe ist in Reimform geschrieben und hat einen eigenen, schönen Rhythmus zum Vorlesen. Die Illustrationen von Susi Weigel bestehen abwechselnd aus farbenreichen Aquarellen und schwarz-weißen Tuschzeichnungen.
Das Buch beschäftigt sich mit großen Themen wie Selbstbewusstsein und Selbstwert und zeigt auf rührende Art und Weise, dass auch in einem Kinderbuch Platz ist für große philosophische Fragen wie "Wer bin ich?" und "Was zeichnet mich aus?"
Mira Lobe, Susi Weigel: Das kleine Ich bin ich, Jungbrunnen 1972, ISBN 978-3-7026-4850-3