↓ Scroll down for German/Dutch version!
Sweet devil! Czech Republic has a large tradition in artisticially designed (wooden) toys. This little "devil", designed by artist Václav Špála, is a beautiful and fun example for a Czech avant garde toy, designed in the 1920ies.
Václav Špála was a Czech painter, graphic designer and illustrator, influenced by Fauvism and Cubism. He was a member of Artel, an innovative group of applied artists promoting the beauty of artistic work and taste in daily life. Their main inspiration came from folk art, and their toys were full of individualism and handcrafted quality. Not mass production, commercialism and realism, but uniqueness and a way to fantasy is what they wanted.
"Devil" is completely from wood, painted in black, white ,red and yellow and has a small opening, some sort of safe-deposit – may be for hiding candy?
This is a reproduction by the way, made in Prague, it is handmade and handpainted and you can get it here.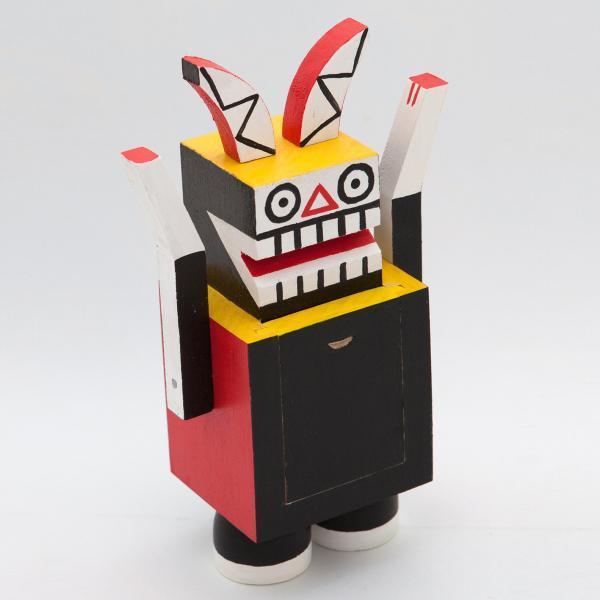 Süsser Teufel! Tschechien hat eine lange Tradition auf dem Gebiet von kunstvollen (Holz-) Spielsachen. Dieser kleine Teufel, entworfen von Václav Špála, ist eine schönes und humorvolles Beispiel für ein Tschechisches Avantgarde Spielzeug der 1920er Jahre.
Václav Špála war ein Tschechischer Maler, Grafiker und Illustrator, beeinflusst von Fauvismus und Kubismus. Er war ein Mitglied von Artel, einer bahnbrechenden Prager Gruppe von Künstlern der angewandten Kunstrichtungen. Ihr Ziel war es die Kunst und die Schönheit künstlerischer Erzeugnisse in den Alltag zurück zu bringen. Ihre Inspiration holten sie sich hauptsächlich aus der Volks- und Heimatkunst und ihre Spielsachen waren voll von Individualismus und qualitätvoller Handarbeit. Nicht Massenproduktion, Kommerzialisierung und Realismus, sondern Einzigartigkeit und Fantasie, das war es was sie wollten.
"Teufel" ist aus Holz, in schwarz, rot, weiß und gelb bemalt und hat eine kleine Öffnung, eine Art Geheimfach – vielleicht zum Verstecken von Zuckerwaren? Übrigens ist dieses Exemplar eine Reproduktion aus Prag, handgemacht und handbemalt und zu bestellen hier.
Zoete duivel! Tsjechië heeft een lange traditie op het gebied van artistiek (houten) speelgoed. Deze kleine duivel, ontworpen door Václav Špála, is een mooi en humoristisch voorbeeld voor een avant-garde speeltje uit de 1920er jaren.
Václav Špála was een Tsjechische schilder, grafisch vormgever en illustrator, beïnvloed door Fauvisme en Kubisme. Hij was lid van Artel, een innovatieve coöperatieve van kunstenaars die de kunst en de schoonheid van kunstvolle producten in het alledaagse leven weer onder de aandacht wilden brengen. Hun inspiratie kregen ze uit de folk art en hun speelgoed was vol van individualisme en hoog kwalitatieve handarbeid. Niet massaproductie, commercialisering en realisme, maar uniekheid en fantasie, dat was het wat ze wilden.
"Duivel" is van hout, in zwart, rood, wit en geel beschilderd en heeft een kleine opening, een soort geheim vakje – misschien om suikergoed  te verstoppen? Trouwens is dit exemplaar een reproductie uit Praag, handgemaakt en handbeschilderd en hier te bestellen.
Images/Bilder/Afbeeldingen via watermeloncat