Ladies and Gentleman! Let me introduce you to one of our toy heroes: "Giraffe" is an inflatable, sound-producing toy, designed in 1971 by Czech designer Libuše Niklová.
Up to the 1960ies design for children was pretty conventional, mostly offering miniature versions of adult styles for children. Inspired by the principles of pop art from the 1960ies on the approach to kids design became more inventive and playful with vibrant colours and characters. New materials that offered new forms were supporting this development. After World War II wood and metal as materials for toys became too expensive. Plastic seemed to be THE solution. It was soft, light, flexible, hygienic and colourful. And it was relatively cheap.
One designer that mastered the design of plastic toys to perfection is Czech designer Libuše Niklová. She designed toys that embraced the qualities of this new material rather then trying to imitate other materials and forms.
Libuše Niklová started with squeaking animal toys in molded rubber, later on she created a famous series of blown PVC figures. At that time designers all over the world started with designing inflatable furniture. Niklová tried to shape the furniture as animals and invented a combination of toy and seat at the same time. With simplified, graphic silhouettes and in bright, pop colours. Best known out of her succesfull collection of "indoor sitting toys" are Buffalo, Elephant and Giraffe!
To order via www.fatratoys.ch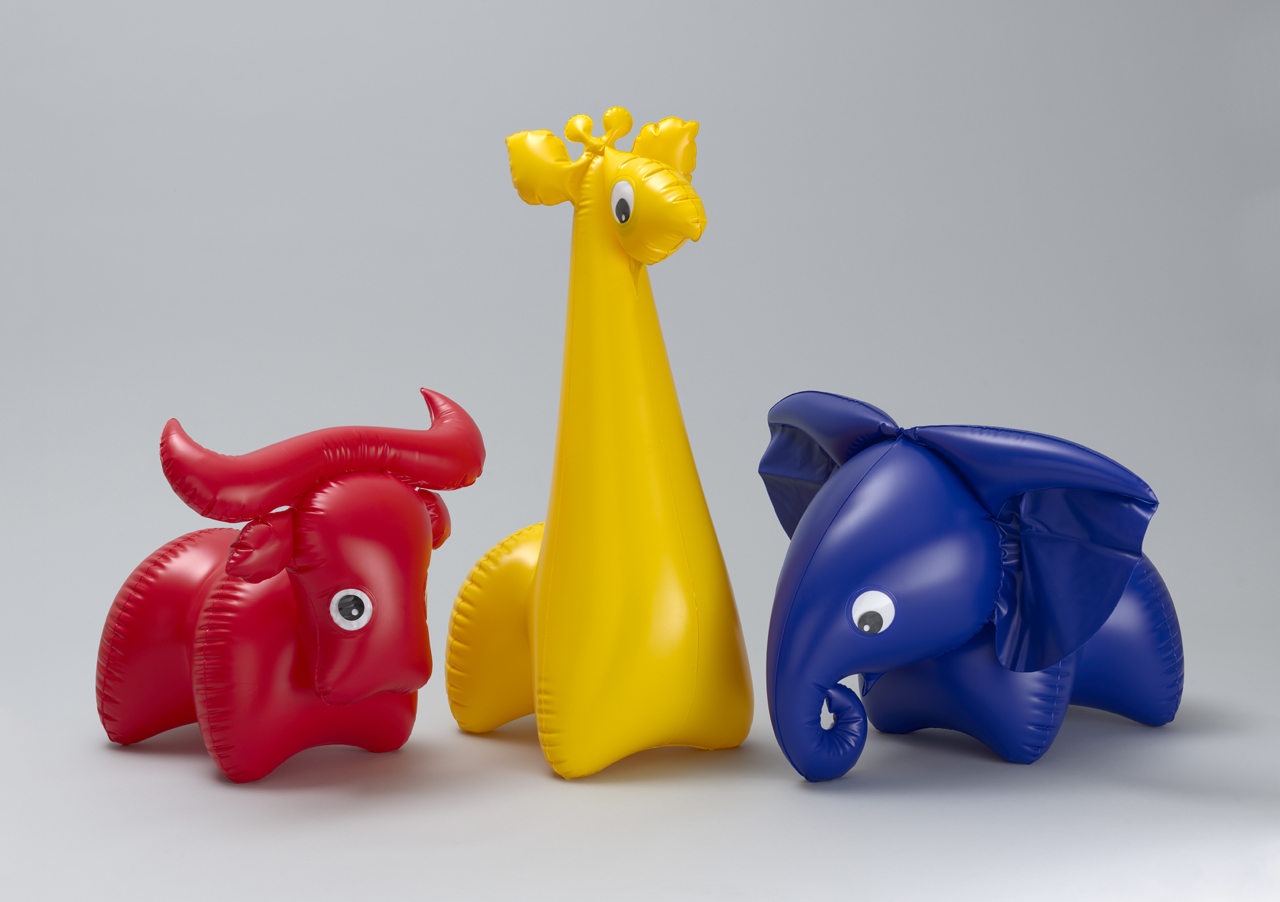 Sehr geehrte Damen und Herren! Wir stellen Ihnen heute einen unserer Spielzeug-Helden vor: "Giraffe" ist ein aufblasbares Quietschtier, 1971 entworfen von der tschechischen Designerin Libuše Niklová.
Bis zu den 1960er Jahren war Design für Kinder ziemlich konventionell. Meistens wurden Kopien von Formen und Möbeln für Erwachsene in Miniatur-Ausgaben hergestellt. Unter anderem durch den Einfluss von Pop-Art wurde die Herangehensweise an Design für Kinder einfallsreicher und spielerischer mit lebhaften Farben und speziellen Charakteren. Neue Materialien, die neue Formen ermöglichten unterstützten diese Entwicklung. Nach dem Zweiten Weltkrieg waren Holz und Metall zu teuer als Basis für Spielzeug. Plastik war scheinbar DIE Lösung. Weich, leicht, flexibel, hygienisch und in allen erdenklichen Farben herzustellen. Und auch noch vergleichsweise billig.
Eine Designerin die das Arbeiten mit Plastik bis zur Perfektion beherrschte war die Tschechische Designerin Libuše Niklová. Ihre Spielsachen nutzten die Qualitäten des neuen Materials und probierten nicht, andere Materialien oder Formen zu imitieren.
Libuše Niklová begann mit Quietschtieren aus Gummi, später kreierte sie bekannte Serien von aufblasbaren PVC Figuren. Zu dieser Zeit begannen Designer in der ganzen Welt mit dem produzieren von aufblasbaren Möbeln. Niklová probierte bei den Möbeln Tierformen aus und erfand eine Kombination aus Spielzeug und Sitzmöbel Mit einfachen, grafischen Silhouetten und in fröhlichen Knallfarben. Am bekanntesten aus ihrer erfolgreichen Kollektion von "indoor sitting toys" sind Büffel, Elefant und Giraffe!
Zu bestellen über  www.fatratoys.ch
Geachte dames en heren! Wij stellen u vandaag een van onze speelgoed-helden voor: " Giraffe" is een opblasbaar, geluidmakend speeltje, 1971 ontworpen door de Tsjechische designer Libuše Niklová.
Tot de 1960er jaren was design voor kinderen vrij conventioneel. Meestal werden kopieën an modellen voor volwassene in miniatuur versies gemaakt. Onder andere door de invloed van Pop-Art werd de benadering van design voor kinderen inventiever en speelser met opgewekte kleuren en bijzondere karakters. Nieuwe materialen, die ook nieuwe vormen en ontwerpen mogelijk maakten ondersteunden deze ontwikkeling. Na de tweede wereldoorlog waren hout en metaal te duur als basis voor speelgoed. Plastic was schijnbaar DE oplossing. Zacht, licht, flexibel, hygienisch en in allerlei denkbare kleuren te maken. En ook nog relatief gezien goedkoop.
Een designer die het werken met plastic tot in de perfectie beheerste was de Tsjechische designer Libuše Niklová. Met haar speelgoed-ontwerpen benut ze juist de kwaliteiten van het nieuwe materiaal en probeerten niet, andere materialen of vormen te imiteren.
Libuše Niklová begon met geleuidmakend speelgoed van rubber, later creëerde ze oplaasbare figuren van PVC. Ron die tijd begonnen ontwerpers over de hele werelt met het vormgeven van opblaasbare meubelen. Niklová probeerde meubels in de vorm van dieren te ontwerpen en vond een combinatie van speelgoed en zitmeubel uit. Met eenvoudige grafische silhouetten en in vrolijke kleuren. De bekendste uit haar succesvolle colleccite van "indoor sitting toys" zijn Buffel, de Olifant en de Giraf.
Te bestellen via www.fatratoys.ch